"Teaching kids to develop character, serve others, and solve problems"
About
Barbara A. Lewis is a national award-winning author and educator who teaches kids how to think and solve real problems. Learn more here.
Books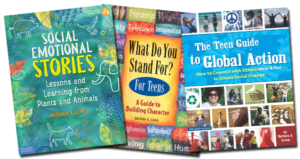 She has authored ten books that have been published in fourteen different languages. Go to the books page.
Keynotes & Workshops
 Barbara is a highly sought after speaker and has been invited to keynote at numerous conferences and educational events across the country. Visit the keynotes page.
Endorsements
The Kid's Guide to Service Projects is a gold mine for kids who want to make a difference.
We recommend Barbara Lewis's books to all the families who seek our services.
Dr. Linda Kreger Silverman, Ph.D.
"Indispensable…The quality and breadth of service ideas are remarkable." When discussing the The Kid's Guide to Service Projects.
The Children's Book Council
Building Character With True Stories From Nature creatively weds character education with analogies from nature to help teachers promote both deep learning and positive character development in students…this synergy is just what education should be.
Dr. Marvin W. Berkowitz, Ph.D.
 Best of the Best for Children – on both The Kid's Guide to Social Action and What Do You Stand For? For Kids
American Library Association
"Outstanding" concerning The Kid's Guide to Service Projects
The Teen Guide to Global Action is an excellent starting point for the many youth who want to turn their social concerns into social change.
Silvia Blitzer Golombek, Ph.D.
 "Recommended Book for the Reluctant YA Reader" when talking about Kids With Courage.
American Library Association