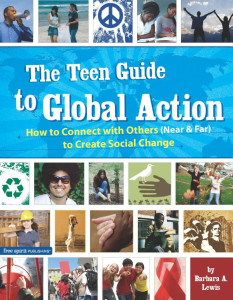 Here's a book for every teen who wants to get involved in service and social change. Featuring profiles of real "Difference Makers" and practical tools readers can use to support causes they are passionate about, The Teen Guide to Global Action provides everything youth need to make a difference at the local, national, or global level.
From suggestions for reducing hunger and poverty and protecting human rights to environmental projects and efforts to promote peace, this book provides knowhow teens can use to make the world a better place. There's also a healthy dose of inspiration. Whether it's reading about Zach Hunter, who started an organization devoted to ending modernday slavery, or Janine Licare, who is helping protect Costa Rican rain forests, teens reading these and dozens of other stories will realize they don't have to wait to become an adult to change the world. Other benefits of the book include:
Hundreds of local and global actions in human rights, hunger and homelessness, health and safety, education, environment and conservation, youth representation, and peace and friendship
"Action Plans" teens can use to research issues and map out projects
"Connect" sidebars with over 100 organizations and Web links
"By the Numbers" facts and statistics on global issues
"Quick Tips" for effective fundraising, volunteering, protest, and other actions
"Point & Click" resources to learn more about service and social action topics
Includes dozens of stories of youth "Difference Makers" from these countries around the world: Afghanistan, Australia, Canada, China, Colombia, Costa Rica, Croatia, Cyprus, Egypt, El Salvador, England, India, Iran, Israel, Italy, Japan, Jordan, Mexico, Netherlands, Pakistan, Palestine, Paraguay, Poland, Puerto Rico, Russia, Saudi Arabia, Serbia and Montenegro, Sri Lanka, Turkey, Uganda, United States, and Vietnam.
Upbeat, practical, and highly motivating, The Teen Guide to Global Action is a go-to source teens can use to put their volunteer spirit into practice and make an impact in their world.
144 pages, illustrated, softcover, two-color, 7"x9", ISBN 9781575422664
Purchase from:
Free Spirit
Amazon